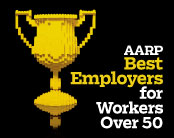 Today word came about that the AARP has released their 7th annual list of the best companies to work for by "attracting and keeping older workers with such benefits as paid-in-full health screenings, phased retirement, a "summers off" program, continuing education, and more. Looks like employers that want to capitalize on this growing, working demographic have got it together. The AARP had them file a close to 60-page application to be considered for the list of the best places for a 50+ worker to punch his or her time card.
Here's a rundown of the top 10, a link to their site and the location of their headquarters:
1. SC Johnson, Racine, Wisconsin
2. Mercy Health System, Janesville, Wisconsin
3. First Horizon National Corporation, Memphis, Tennessee
4. Scripps Health, San Diego, California
5. Stanley Consultants, Muscatine, Iowa
6. Lee Memorial Health System, Fort Myers, Florida
7. Leesburg Regional Medical Center and The Villages Regional Hospital, Leesburg, Florida
8. George Mason University, Fairfax, Virginia
9. Principal Financial Group, Des Moines, Iowa
10. Massachusetts General Hospital, Boston, Massachusetts
For those looking for the complete list please visit the AARP website.
For everything that the Employment Guide has on Older Workers, check out the Employment Guide's Older Worker Command Center.
Remember the job fair is only a week away! Start prepping your resumes and get ready to embark on an awesome journey towards a new, exciting and rewarding career.
-Greg Rollett