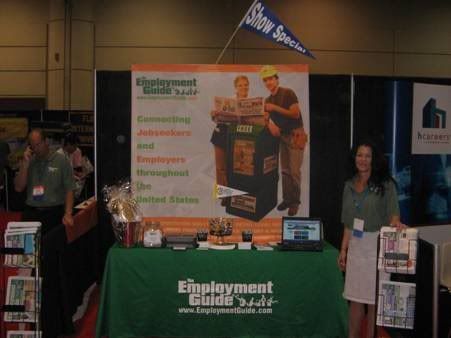 The Florida Restaurant and Lodging Association held their annual convention in Orlando this weekend and the Orlando Employment Guide were proud not only be sponsors and have a booth, but we went live as the exclusive content provider on their website's job board! Check it out…
http://frla.employmentguide.com/frla.html
Job seekers can now search jobs and employers can post jobs from the FRLA website!
Here is the official Press Release from the Employment Guide:
The Employment Guide® Announces Exclusive Partnership with
the Florida Restaurant and Lodging Association
Norfolk, Va., September 17, 2007- The Employment Guide proudly announces that it has partnered with the Florida Restaurant and Lodging Association (FRLA). This exclusive partnership will allow The Employment Guide to power the online job board at both www.flra.com and www.frla.org. FRLA members will now have access to all related jobs listed on www.EmploymentGuide.com without having to leave the FRLA Web site. The partnership was announced at the Florida Restaurant and Lodging Show, held September 7-9, in Orlando.


"After much review, we chose The Employment Guide as the partner best able to meet the needs of our members," said Carol B. Dover, president and CEO of the FRLA. "The site is accessible through www.frla.org, and we feel it is positioned to become the premier destination for Florida hospitality job seekers and employers. This is a great example of the association responding to our members' needs with the perfect resolution."


Joe Fagan, general sales manager of the Florida Panhandle edition of The Employment Guide added, "The Employment Guide is excited to help the hospitality industry with their number one challenge: staffing. Hospitality job seekers in Florida now have a one stop shop with all of the resources they need in their hospitality career search."


For more information about the Florida Restaurant and Lodging Association partnership with The Employment Guide, please contact Jennifer Rengel at 1-407-673-6132 or jennifer.rengel@employmentguide.com. For more information about The Employment Guide and www.EmploymentGuide.com, contact Andrea Rizzo at 1-757-351-8135 or andrea.rizzo@employmentguide.com.


Thanks to all the vendors who stopped by to show some love to Orlando's number one source for hourly employment!


-Miss Jennifer Rengel and Greg Rollett